Browsing all articles in LATEST NEWS
This months newsletter has taken on a new format. With our new 5* IDC PADI Dive Resort status we decided it was time to mix it up a bit. Our new format is more streamlined and more focused on specific monthly topics.
This month's big news was of course Tim becoming a PADI Course Director. This is an amazing feat for us all at Liquid, Tim has been working for this moment for 10 years and finally we get to congratulate him on reaching the highest rating in PADI.
This months newsletter covers all our upcoming IDC news. We talk  about our wonderful new IDC classroom that is under construction. A  joint Canadian and Philippine project, with plenty of bamboo in a modern classroom, we will see what it looks like upon completion in a few days time.
We have also launched our new IDC website called Instructor Development Philippines. Together with Atmosphere Resorts, another 5 * IDC Dive Resort in Dauin, we are offering 4 IDC courses a year with a unique dual internship program. This program gives all our IDC candidates the chance to work in 2 5* IDC Resorts, gaining invaluable experience before heading off into the deep blue world of being a diving instructor.
We hope you like our new format. If you would like to receive our monthly newsletter simply sign up on the home page of Liquid website.  To read more from this months newsletter click here.
Our latest blog is from instructor Jim, who decided to go on a little rant about dive planning and the lack thereof! If you have ever had the pleasure of meeting Jim you will know that there is nothing he likes to talk about more than the intricacies of diving, the technical aspect of diving and dive planning!
Here is a little snippet of his blog -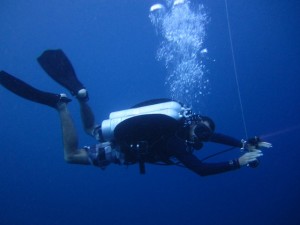 "Tables, dive computers and pre dive planning – what's that all about?  Groans and irritations from divers as they have reduced no decompression limits for their repetitive dives.  Even worse than that, the terrifying conversation post dive 'It said STOP and ASC-CEILING, but I didn't know what that meant.' Come on, who doesn't understand what 'STOP' means?!
A new favorite course of mine to teach has been the multi-level speciality. It provides my students the opportunity to focus on their pre-dive plan much more extensively than they ever thought. It is a great way to revisit and look at all the different tools for planning that we have at our disposal. Plans, back up plans, gas management and multilevel profiles….these are things that get me excited about diving!!"
To read more about Jims blog simply follow this link and check out our blog site at www.Liquiddive.net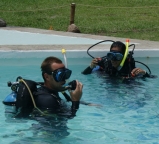 This months newsletter is finally out! Yey! We are very excited to talk about Tim's up coming Course Director Training Course that will be taking place next in month in Malaysia. This also means Instructor Development Rating is just around the corner. With this new rating we need a new modern instructor development classroom for all our future instructor candidates.
Instructor Jim had the good fortune of being a guinea pig and got to play with a sidemount prototype, we welcome Dennis another divemaster trainee, who will also be joining us for our first official instructor course in May! We were invaded by Australian nurses who all tried diving for free in our pool and enjoyed live music in the evening.
This months Sunday Funday was another success with a lot of new faces and of course regular guests. Sunday Fundays are now getting a good name for themselves and each one is more fun than the last.
If you do not yet receive our fun filled monthly newsletter then sign up at the bottom of our home page. Trust us they may be a little late every now and then but they are worth the wait!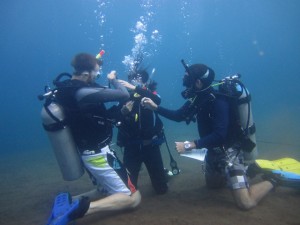 Our latest blog is all about what really happens to people when they learn to dive. And by this we do not mean the physical affects to your body what we are talking about is the level of intelligence and how it miraculously diminishes with most people as soon as they put a mask on and descend a few inches under water!
The life of an instructor is – let's face it – great! We get to live in amazing locations; dive every day; see stunning underwater creatures that not many people will ever see and teach people how to dive! This last bit is the main reason why we love our jobs. Every day is different and every student different.
People often ask 'Don't you get bored teaching the same courses every day?" The simple answer "No! It may be the same course but every student will act differently no matter what the skill" With over 10 years of instructing we still get surprised by students and their ability to do something totally daft underwater!!
Here is a little snippet from our latest blog explaining a little more about this -
"For example the most common problem a scuba instructor faces has to do with clearing the mask of water.  If your mask is full of water and you don't like it, then what do you do?  Luckily for the student diver they really don't have to generate solutions or choose the best option.  We have taken care of that for them, through our briefing of the skills and what to do when the mask is full of water.  You would think that since the instructor informs the student not only what the problem is going to be in advance but also how to fix it and the best means to accomplish it, that there would be no problems.  It couldn't be further from what actually happens.  Students will sometimes bypass all logic and go with what they "think" is the best solution.  Sometimes that means instead of clearing the mask as taught they spit out the regulator.  Where is the sense in that?"
Follow this link to read more in our latest blog about what can happen to most intelligent person when they don a mask and submerge a few inches under water!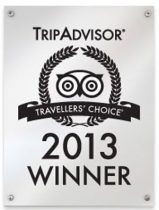 This months newsletter is finally out! I know more excuses as to why it is late, but we have been pretty busy recently which is great! This time we are saying thanks to all our wonderful guests who have been writing such glowing reviews about us on Trip Advisor. So many in fact that we won an award:D Read more about what here.
We have also had to say goodbye to two staff members this month one of which is expanding her family the other is moving on to pursue her dream. But where this is a goodbye there is also a hello, as we welcome to new staff members to join us here at Liquid.
This months newsletter also talks about Tim's recent marathon run, welcomes yet another divemaster trainee, talks about the recent success of our environmental Sunday Fundays and about visiting artist AG Sano….to mention a few things!
If you do not yet receive our fun filled monthly newsletter then sign up at the bottom of our home page. Trust us they may be a little late every now and then but they are worth the wait!
Teaching family to dive is as interesting as teaching family to drive! So why do we still do it! Well because we love diving and we love our families so we naturally presume the two things should be united!
Instructor Adam has recently had the wonderful experience of teaching his older brother Greg to dive. That's right he ignored the warnings from us old school divers who have been there before and vowed never to do it again! Surprisingly both Adam and Greg had a fantastic time and are still very good friends!
After a little bit of coaxing Adam has written a blog about how he felt about teaching a family member to dive.  Here is  a little snippet of his blog….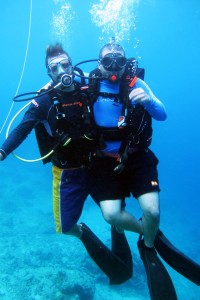 "My brother and I get on well. We are reasonably similar, unconditionally supportive to each other (which is a rarity these days) and fairly laid back. Hearing stories from Zoe and Tim here about teaching family to dive, it sounded like I had lined myself up for a trial run of the apocalypse. We had agreed a fair way in advance that I would teach him to dive and he seemed excited about it all so I felt good."
Read more about Adams experience on our Liquid Blog site.
If you are interested in learning to dive – whether it is with another family member or on your own! Our professional PADI certified instructors will take very good care of you! After all they teach their families and they all loved it!
Email us for our current prices and full explanation about what it takes to become a PADI certified diver! 
We run all PADI courses from beginner to professional all year. So sign up now and come and join us for your diving holiday!
Here is the latest blog  entry from Divemaster Trainee Marc, who has been with us here at Liquid for a few months now on his diving  journey from advanced diver to professional PADI divemaster.
"At the moment I'm the only 'official' divemaster trainee at Liquid. Jasper left for a while to travel around, only to come back later for his Instructor Development Course. Julia is successfully freelancing around as a PADI Divemaster. In a few days however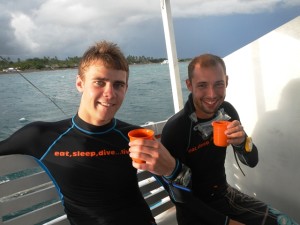 we've got a new Divemaster trainee! Mike (England) has been here for a little more than a week now, getting his advanced, EFR and Rescue Diver done before starting his Divemaster Traineeship here.
Since I've gone through almost the same courses about two months ago I still remember how I did, how I felt about everything etc. It's interesting to see it from a different perspective now. I'm seeing some similarities and of course some differences as well. And of course it's great fun to assist in the Rescue Diver course! Losing masks, fins and even each other underwater to keep the stress levels going is great for practice. I'm learning from it as well, now that I'm the diver that is faking problems I see how it is if someone tries to help you, what works for me and what doesn't."
If you want to read more about what else Marc has been up to lately then simply follow this link to LiquidDive.Net our Blog site.
If you are interested in learning more about our Divemaster internships please email us with your questions. We offer an array of divemaster courses but find it easier to create individual packages to suit each divers specific requests and needs.
The life of a Liquid divemaster trainee is full of diving, learning, meeting new people and above all FUN!! Come on down and join us for your diving adventure!
Divemaster Trainee Marc's latest blog is all about diving – after all that is why he is here. As part of his divemaster internship Marc (and all our DMT's) get unlimited diving. Depending on the duration of the course some divemaster trainees get to log a lot of dives, and Marc who is with us for nearly 6 month is one of those lucky ones.
The past few weeks have seen Marc diving at Apo Island where he dived with turtles and schools of 100′s of Jacks. The stunning soft corals and abundance of marine life make this one of the most popular diving destination in the Philippines. Marc has also gained a new respect for muck diving along the Dauin Coast. Here it is possible to see a plethora of tiny critters from frog fish to pipe fish, nudibranchs to gurnards, octopus to cutle fish; throw in a few healthy reefs, schools of fish and the occasional turtle and you can understand why he has found a new respect for our local dive sites.
Here is a snippet from Marc's latest blog -
"So what did I do since the last blog? Surprisingly enough, I've been diving! A few trips to Apo Island with a great drift dive yesterday at dive site Cogon. It was kind of rough on the surface Divemaster Trainee Jasper and me wanted to do a different dive to end that day. Since one of the guests hadn't dived that particular site yet and was enthusiastic about some drift diving we went there. A few nudibranchs, corals, sand, water and an abundant variety of fish later we 'stumbled' into a huge school of jacks out in the blue. Drifting along, we were able to enjoy a wall of fish for quite a while. Curious about the school was that the jacks were paired up in two's, one light and one dark. This could of course be very common, but I was going "aaawh that's cute" (although it must have sounded a bit different under water). They were probably holding fins as well 
 Yeah, just paint that picture in your head, cute eh?"
Just click here to read more about Marc's life as a Liquid Divemaster Trainee.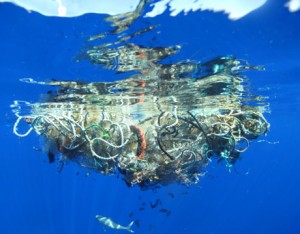 As a diver how do you pick up trash? It seems like a fairly easy question.  But that's assuming that you bother to pick it up at all.  For the vast majority of the population (of course it varies regionally), people don't bother to pick it up.  So why as a dive resort are we talking about trash? Simple really most of the trash that is discarded on the ground ends up in the ocean – which is where we tend to go diving every day!
As a diver it is part of our responsibility to protect the ocean environment, that can start on land with proper trash disposal. But also whilst diving. What do you do as a diver when you see trash? Do you ignore it and think it is not your problem or do you collect it and take it out of the ocean with you?
Being dive instructors unfortunately trash is part of many of our dives and normally while we are with students. Tim wrote a blog about how he addresses the trash problem when he is diving. Read on and let us know your thoughts on trash underwater!
Here is a snippet from Tims blog -
As a diver how do you pick up trash?
When you are diving along a reef and you spot some rubbish in the distance, what do you do?  I know some people will cleverly steer their divers away from the refuse. Their hope is that they can divert attention away from the embarrassing mess that is ruining the reef.  Others will try to covertly pick it up and secretively cart it away.  We are all ashamed to have our premier dive spots cluttered up with garbage and don't want people to see that there is trash on those sites.  But what about taking a different approach?  Personally I take trash underwater as a learning experience.  If there are wrappers or refuse on my dive I make sure to take my divers right toward it.  Then when I get to the offending piece of garbage I slowly and deliberately pick it up.  Almost like I am demonstrating a skill, I pluck it up and brush off any sand and slowly and methodically fold it up or secure it into my pocket.  Like a magician performing a trick, I want all eyes on me.  Except I want people to see exactly how the trick is done.  I am not ashamed.  Rather I am proud.  Yes there was crap on my reef.  But I got rid of it.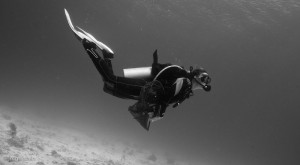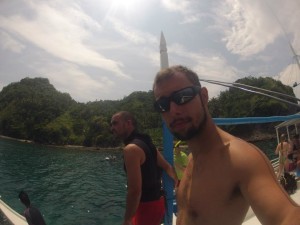 Divemaster trainee Marc has been with us now for a little over 4 weeks. He arrived as a fairly experienced advanced diver and started off with a few days of relaxing fun dives before Instructor Jim put him through his paces on the rescue course. Now he is well and truly under way with his divemaster training and apart from the odd ear ache is loving every minute of it.
He has spent the past week diving – and we mean diving a lot! As part of the divemaster course you get to lead and assist with fun divers. One of the rules we try to follow at Liquid is, if a divemaster starts with a group they stay with the group! Better for the customers and better for the divemaster. So Marc was lucky to find himself as back up divemaster for two large groups back to back! Apo Island every second day for 3 dive day trips and Dauin Coast mixed in for local muck diving!
Marc is writing a weekly blog for us to tell his story of life as a Liquid Divemaster Trainee!
We offer a number of different divemaster trainee internships here at Liquid, ranging in time from 4 weeks to 6 months and ranging in cost from Php50, 000 – Php200, 000.
We offer 3 different types of accommodation, equipment rental & we can help you buy the correct dive gear for you at discount costs. Free pick up from Dumaguete city, discounts at The Lodge and in the dive shop and lets not forget all that diving!!!
If you are interested in learning more about what divemaster trainee packages we offer or just want to sign up and come join us here at Liquid for your new diving adventure! Then just email us and we will respond as soon as possible with all the information you need!
Random Photos Around Liquid!