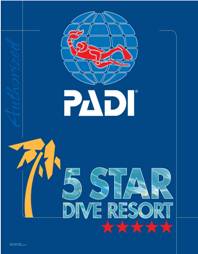 PADI 5 Start Dive Resort! Yup we made it and we are all very proud of ourselves. For those of you who do not really understand the PADI ranking system let me explain why all of us at Liquid are super excited to have been giving this recent rating.
As a dive resort it makes a lot of sense to become a PADI resort, after all they are the highest certifying diving agency world wide. To be able to get the initial PADI Dive Resort ranking there is a fairly intensive application process. This involves proving that your resort can offer the standard of service that PADI pride themselves on. We had to have photo evidence of dive boats, beach access, changing rooms, accommodation, classroom, equipment and oxygen & first aid to mention a few of the things on the list. We had to prove there were no infractions looming on us or any of our staff, that we were all accredited PADI members and that we all towed the PADI line. We successfully passed.
The next level is the PADI 5 Star Dive Resort. For this we had to prove that we were maintaining all those standards and requirements that granted us the PADI rating, plus show that we had certified over 150 students within a wide range of courses from beginner to professional, with a large percentage of those being specialty courses and Project AWARE courses. Another application form with another check to list to follow and after a day or two of eagerly awaiting the results we got the approval email and the celebration began!
PADI 5 Star Dive Resort
So what does this mean for Liquid. To be honest it opens up many doors for us in the PADI world, it proves to all our customers that we are dedicated to what we do and strive to maintain the best levels of diver education possible at all times. It shows that the Liquid team are a happy bunch that enjoy working together and helping all levels of divers have the best diving holiday experience.  And more importantly we did it in less than one year of operation! This we are very proud of.
We promise all our previous and future guests that we will not change – ever! We will not let this new PADI 5 Star Dive Resort rating go to our heads, instead we will continue to do what we love doing – diving and teaching others to dive.