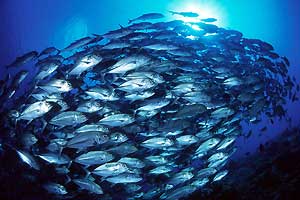 Divemaster Trainee Marc's latest blog is all about diving – after all that is why he is here. As part of his divemaster internship Marc (and all our DMT's) get unlimited diving. Depending on the duration of the course some divemaster trainees get to log a lot of dives, and Marc who is with us for nearly 6 month is one of those lucky ones.
The past few weeks have seen Marc diving at Apo Island where he dived with turtles and schools of 100's of Jacks. The stunning soft corals and abundance of marine life make this one of the most popular diving destination in the Philippines. Marc has also gained a new respect for muck diving along the Dauin Coast. Here it is possible to see a plethora of tiny critters from frog fish to pipe fish, nudibranchs to gurnards, octopus to cutle fish; throw in a few healthy reefs, schools of fish and the occasional turtle and you can understand why he has found a new respect for our local dive sites.
Here is a snippet from Marc's latest blog –
"So what did I do since the last blog? Surprisingly enough, I've been diving! A few trips to Apo Island with a great drift dive yesterday at dive site Cogon. It was kind of rough on the surface Divemaster Trainee Jasper and me wanted to do a different dive to end that day. Since one of the guests hadn't dived that particular site yet and was enthusiastic about some drift diving we went there. A few nudibranchs, corals, sand, water and an abundant variety of fish later we 'stumbled' into a huge school of jacks out in the blue. Drifting along, we were able to enjoy a wall of fish for quite a while. Curious about the school was that the jacks were paired up in two's, one light and one dark. This could of course be very common, but I was going "aaawh that's cute" (although it must have sounded a bit different under water). They were probably holding fins as well 
 Yeah, just paint that picture in your head, cute eh?"
Divemaster Trainee Marc – blog # 4
Just click here to read more about Marc's life as a Liquid Divemaster Trainee.