What happens to our brains underwater?  I have always thought that the smartest person you can find is at least half as smart as soon as their head is two inches underwater.  I'm not sure what it is that makes a person lose their senses underwater, but I have seen it proven time and time again.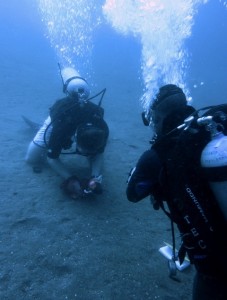 After so long in the diving industry it has now come to the point where I am actually surprised if someone seems to not loose half of their mental faculty on a dive.  There have been many times where I have felt completely outclassed on the brains front in the classroom.  Try teaching a doctor about how to handle a dive emergency, and see if you don't feel a bit like a fraud.  But take that same person into the pool and the level of their incompetence is truly astounding.  Now to be clear I am not talking about physical skill level, rather the ability to keep a clear head and analyze and problem solve in some kind of rational way.
Problem solving is generally broken down into four categories.
First comes "Define the problem", then "Generate alternatives", "evaluate alternatives", and finally "implement solution"
It's pretty straightforward and most people are proficient to a greater or lesser degree daily.  People with positions in medicine or business or even a kids football coach all use these steps.  But when a brain is submerged underwater these steps are all thrown out the window.  It seems that the perceived threat of imminent death by drowning, makes the crucial first step of identifying "what the hell is going on here?" nearly impossible for most people.  Of course if you can't sit back and figure out where the problem is you probably won't come to a very useful solution.
For example the most common problem a scuba instructor faces has to do with clearing the mask of water.  If your mask is full of water and you don't like it, then what do you do?  Luckily for the student diver they really don't have to generate solutions or choose the best option.  We have taken care of that for them, through our briefing of the skills and what to do when the mask is full of water.  You would think that since the instructor informs the student not only what the problem is going to be in advance but also how to fix it and the best means to accomplish it, that there would be no problems.  It couldn't be further from what actually happens.  Students will sometimes bypass all logic and go with what they "think" is the best solution.  Sometimes that means instead of clearing the mask as taught they spit out the regulator.  Where is the sense in that?
However many times a person surprises me by doing something totally unexpected I can always rest assured that someone else will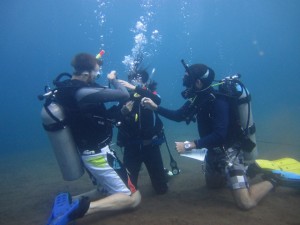 top it later.  It is a curious phenomenon that must have an explanation.  Could it be some form of shallow water narcosis?  Or perhaps it is something to do with the mammalian diving reflex?  If you are not familiar with this phenomenon, let me sum it up for you –
When you put a mammals face into cold water a few interesting things happen.  First the heart rate slows, then you have some vasoconstriction of the extremities (reduced blood flowing to your ten little piggies).  Lastly (and here is where it gets technical) there is a bit of a blood shift which prevents your precious organs from being squeezed.  Of course the last two things only happen on deeper dives, not the two inches that seem to induce the aberrant performances discussed here.
I'm not a scientist but I think it is time to look into this.  There are countless dive professionals that are putting in the field work.  Who knows maybe we can find a cure.  Of course the first step in solving the problem is to "define the problem".
So let's coin a term for this one.  How about "degenerative cognition submersion variable", or perhaps "immersion induced brain necrosis".  I think one of those should do the trick.  After all if you have a term for something it makes it a lot easier to talk about and deal with.  Next time you encounter someone acting like a bit of a muppet underwater you can tell them that perhaps they were just under the effects of DCSV or IIBN.  It sure beats trying to tell them they were just not thinking straight.
Now that we have a definition and have identified the problem, what options do we have to address it?  Of course we could just not take people under water, but we all know that is not an option.  There must be a way around it, surely not everyone suffers from these debilitating symptoms?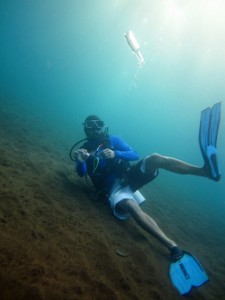 Dive professionals have to solve problems underwater all the time.  Sometimes I think that I do some of my best thinking under the surface.  Why is it that some people are more suited to maintaining their mental faculty while submerged?  Are the people with this ability drawn to diving or have we developed it?  I firmly believe that we need to develop the skills needed to keep our heads clear in such an alien environment.
In order to overcome the difficulties we face underwater we need to understand them better.  Maybe Einstein said it best when he said:
"We can not solve our problems with the same level of thinking that created them".
As a long time scuba instructor I firmly believe that a little knowledge goes a long way.  The more you know about something the better prepared you are to handle any difficulties you encounter with that thing.  The more you practice at something the better your proficiency and comfort improve for that particular activity.  Dive professionals aren't wired differently than anyone else, we just have more knowledge and practice.  For that reason I think the best way to solve the problem of" underwater ineptitude" is education.
All that is left is to "implement the solution", it's an easy solution as well.  Take a scuba course, maybe even two.
It really doesn't matter what course you take.  If you love photography, then take the Digital Underwater Photography Specialty.  Or if you think you are a bit of an acrobatic ninja take the Peak Performance Buoyancy course.
Anything that you learn will benefit your skills and knowledge.
The whole point of the PADI system of courses is to teach you how to solve problems.  Think about your Open Water course.  The entire skill set is about what to do if something happens to you.  From how to clear a mask to how to handle and out of air situation to controlling your buoyancy, there is not a single skill that is just for fun.  The Rescue course is basically a multi-day exercise in advanced problem solving.  For intensive problem solving practice you can't get any better than the Divemaster or Instructor Development Courses. 
Each time you take one of these courses you become a better diver.  Your skills improve and your knowledge grows.  Soon you will find you no longer suffer from "liquid incompetence", which at the end of the day, is not a label you want to be stuck with.