PADI Divemaster Course; serious fun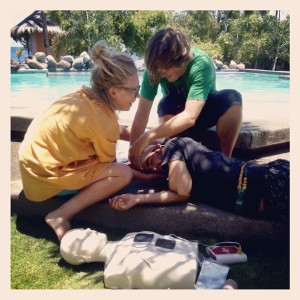 This PADI Divemaster Course had been a long time coming. Four years after completing our Advanced Open Water and deciding we really wanted to do it, my boyfriend and I finally made it to the Philippines and spent about a month traveling around the Visayas to find the best school to study with before being blown away by Liquid Dive Dumaguete.
It's been worth the wait! and not exactly what I had expected in many ways too.
Of course there has been plenty of fun! We did our EFR and PADI Rescue Diver course here too. Here are three of the funniest course moments of the last two months (for the benefit of the reputation of staff and customers at Liquid I'm not including any happy hour, karaoke or Why Not? examples here;)
1- Instructor B pretending to be an customer on a fun dive and just about managing to stand up without falling over backwards because she'd put her tank on upside down in her BCD
2- Instructor Jim being a distracted student in a Discover Scuba Diving course doing one finger press-ups on the bottom of the pool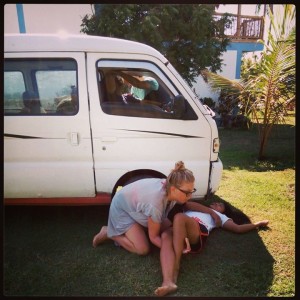 3- Receptionist Nez running into the classroom when we were doing a Rescue exam shouting "Come help! Jack (fellow DMT) has been drink driving! There's been a crash!" and running outside to find an elaborately set up "crash" scenario with three "victims" and Jack in the front seat babbling.
But it's not been all fun and games. I've been surprised, and if I'm honest more than a little stressed on occasions, by the amount of responsibility given to DMTs (Divemaster Trainees) here. It's not just laughs and looking for turtles. It's a tough course with lots to learn and much to master.
It's certainly given me a new level of respect for PADI DMs and Instructors. Especially the guys here at Liquid and Instructor Development Philippines who are by far the most professional, thorough and friendly we have found on our travels.
So if you're reading this and thinking about doing your PADI Divemaster Course here I'd say do it!
It's a serious commitment. But it's seriously awesome too.
Kathryn Macdonald-Taylor