Sidemount Diving & Technical Scuba
It has been a busy high season for all here at Liquid Dive Dumaguete, including the Liquid Technical Dive Team.  Through the past few season many a student have taken the plunge into the technical scuba diving realm. Whether sidemount diving or advanced decompression procedures, it was a great time for technical scuba at Liquid. Let's have a quick look back at the students and courses.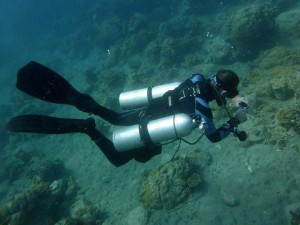 In January we had a Negros Oriental diver, Leslie, come on a short vacation back home to see family and undertake her TDI Sidemount diving course. Leslie was put through her paces with technical scuba instructor and enthusiast Jim.  As an already accomplished diver Leslie decided the New Year was time for some new challenges, and where better to place herself than the Liquid Technical Department.  She soon took to the increased complexities of dive planning, gas management and of course the fun of the dives themselves.  With an increased awareness for her team in the water and the skills to safely conduct Sidemount diving, with of course a few problems thrown in for good measure, Leslie walked away from Liquid Technical as a newly found diver on the start of her technical scuba diving career. We certainly hope Leslie will come and see us again whenever she visits home and of course pursue the next challenge.
In March Liquid alumni, Caremi, and her newly found team member and PADI Instructor, Peter undertook the challenge of TDI Advanced Nitrox and Decompression Procedures.  Caremi has previously completed her PADI Divemaster course with Liquid Dive and come back to visit the Liquid Technical scuba dive staff to follow her passion for tough love.  Having completed a host of courses with me previously, Caremi fully knew the tasks she would be taken on, and of course was always eager for more to be thrown her way.
Peter had decided it was time to take off the instructors hat and get back into the students seat again to learn something new and improve his own skills, things that he can now pass on to his students too. Peter is a sharp team player and proved to be a good foundation in the team. With a sensible head and a true team philosophy he raised up to the challenge of being truly valuable to dive with.
At this point I cannot stress enough just how pleasurable it is to dive with others who are so honestly and well established in their mentality and approach to recognising and understanding the subtleties of communication.  Sharing a look with people, even through a dive mask, and understanding the thought process and mentality happening is no easy thing to accomplish, but it instills a level of trust that you can't achieve with many a diver.
Peter and Caremi really became a team you can be proud to dive with.  Completing the courses just in time for Peter to go off for a few days relaxation before heading home, Caremi decided to stick around Liquid that little bit longer to undertake a few technical scuba fun dives.  Ready for the challenge and as a well accomplished team pairing Caremi and myself decided to undertake some exploration around the nearby walls of Siquijor, a spot not so well dived by the recreational diver, there is still some scope left for the exploration of deeper and further our walls.  Several dives were made with a maximum depth of 45 metres and runtimes in excess of 70mins there were many a new corner, nook, cranny and deep reef to be discovered.
Not to be finished quite yet Caremi decided to split her remaining time with Liquid and dedicate in to TDI Sidemount diving course. With buoyancy and propulsion being second nature at this point more time was spent with gas drills, switches and management and throwing a few curve balls her way.  An unforgettable final and 200th dive were made with Caremi, the result of which were one crazy current and more jack fish than we ever thought possible at the world famous Apo Island.
In April, recent guest Gareth, decided to get a few more experience dives in as a newly qualified technical scuba diver. Gareth, utilising back mount and myself in the xDeep Sidemount diving rig, again undertook dives at Apo Island to maximum depths of 45m, again with runtimes exceeding 70mins. Gareth explored around some of my favourite spots at the bottom of Chapel, again exploring all the areas hidden away from the recreational scuba diver.  Not to be outdone my Caremi's magical dive Gareth wanted to head in exploration of the jacks at Apo Island too, again being subject to some insane currents the decompression phase was spent in some challenging conditions which kept team contact paramount to a successful dive. Needless to say, over 20mins at 6m went very quickly!
Keep an eye on the Liquid Technical department over the coming months for big expansion and changes. Closed Circuit Rebreather support is expected around July, and TDI extended range classes scheduled soon after.  Of course Sidemount diving is always available as well as a full range of Technical Scuba courses. Exploration efforts are on-going at Liquid, as we continue to dive in unchartered waters.
Want to have you name on the Liquid Technical Alumni wall?  Then don't hesitate to contact us with any queries you have.
-Jim Thompson