Life in the Philippines is a great experience.
I wouldn't want to trade my life in the Philippines for anything in the world, but I've got to say that I do miss the Dutch dairy products and especially cheese.
The month of June I went back to Holland to see my family and friends. I was looking forward to it alot, being able to see most of the people that are close to me and being able to eat CHEESE! Awesome!  Now when you say cheese, most people think of the French cheeses and Holland is usually not the country that first pops into people's minds (except for the big wheels of cheese maybe). But we Dutchies do have a fabulous cheese selection. Anyways, I ate a heck of a lot of it back in Holland. It was a great holiday, I got to get out of the country as well with some of my friends and explore a bit in Morocco and Denmark. All in all a great month.
But, yeah there's a "but", I also longed to go back to my life in the Philippines and in particular the city of gentle people: Dumaguete. Negros Island has really stolen my heart, to me it is this wonderful place on earth where you feel this blanket of comfort and hospitality as soon as you arrive. Getting out of Dumaguete and driving further south to Dauin you get to catch a glimpse of the countryside. And even though the countryside and mountainous area are all lovely, the thing I craved the most was getting back into my scuba diving gear and jumping into the water.
Luckily I work at Liquid Dive Resort where basically everyone is ready to go diving at any point in the day.
There were some new faces at Liquid when I got back from my trip, some lovely new PADI Divemaster Trainees. It is great to have DMT's around, they're always in for a good time underwater and at the surface. At the beginning of July we had 3 Divemaster Trainees: Elisa from the U.K., Adrian from Mexico and Frank from the U.S.A. All three very different life stories, but amazing people nonetheless. All three were learning what life in the Philippines has to offer.  I knew Adrian and Frank from before I left for Holland. I trained Frank for a small part of his PADI Open Water Course and then continued with his Advanced Open Water and some specialties like Peak Performance Buoyancy. He was one of the most eager students I have taught and he always seemed to have a great time underwater no matter whether he was practicing skills, just looking at fish or assisting on a dive course during his Divemaster Training.
Although he was relatively still a new diver, he seemed to know exactly what he was doing. He even came fully kitted out with technical dive gear for his Open Water Course. Frank was building a new life in the Philippines for himself.  He had plans of completing his Divemaster course and enrolling in the PADI Instructor Development Course as soon as he was eligible. Great guy to have around. Unfortunately one night in July, Frank got in a terrible motorbike accident and didn't survive the crash. An extremely tragic loss.
The night of the accident we all sat in the Lodge at Liquid talking, he showed some of his photography and make-up art. I couldn't believe that Frank, this really down-to-earth guy from NYC was actually a very talented make-up artist. Quite a few jaws dropped when he showed the pictures.  Us girls at Liquid started planning this complete make-over, since none of us wear make-up at all. Unfortunately this plan and many others never came to be.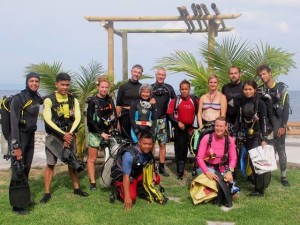 One thing that we were adamant in realizing though was Franks desire to do a proper clean up of our house reef Mainit. Frank wanted to organize a clean-up as part of his Divemaster course. It was the kind of person that Frank was, he wanted to not only enjoy what life inthe Philippines has to offer, he wanted to be sure others could have the same opportunity.  If that meant hauling trash off the beach and the reef, he was not only prepared to do it but eager. So on the 18th of July at 3PM we all walked out to the beach with big rice sacks to be filled up with fishing nets, plastic bags, wrappers and all types of clothing.
After this memorial dive we came back with bags full of trash, and chatted about Frank over a few drinks.  We would have given anything to have heard Frank's distinctive voice join in the conversation.
Every time I get a bit homesick for Holland or have a craving for cheese, I remember how fortunate we are to have what is right in front of us already.  My life in the Philippines is something I am thankful for everyday.  Instances like this drive that home.
I just wanted to thank Frank for the inspiration and his contribution here at Liquid. We all miss him greatly and our hearts go out to his family. Frank was on his way to a wonderful life in the Philippines. We are just thankful that we had an opportunity to be a part of that life, even for such a short time.
Berlinda