Learn to Scuba Dive in the Philippines
"Well, what to say about Liquid!? Approach with caution because you will become hooked (it's hard not be sucked in when you have such brilliant instructors like Berlinda and Michelle). Learn to scuba dive in the philippines with Liquid it's fun, fascinating and fabulous!
Upon arrival we were greeted with the utmost warmth from all the staff (they ALL live up to the Filipino warm, kind and lovely impression you hear so much about) and the food they produce is next to nothing. Home cooked delicacies, from thick succulent pancakes for breakfast, marvelous soups, sandwiches, and salads for lunch and their three-course dinner menu Have I said how good the food is here? Dinner is served family style, everyone sitting down together to share their dive experiences, it's a lovely way to finish off the day and get to know your fellow divers. After dinner, if you're not too shattered from your jam packed water diving day- there's a brilliant bar just downstairs with the most weird and wonderful cocktails – try the Vodka Paralyser. You've got a soft bed to roll into at the end of the night too!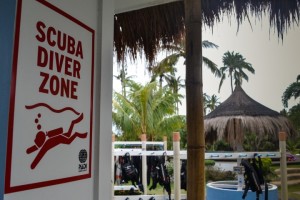 Coming to the resort – I had never dived before and thus took the PADI Open Water and Advanced course here and my goodness what a good decision it was. We lived and breathed diving – doing a few hours of theory and few hours of diving each day. Michelle, who took us for theory was clear, concise and more than willing to re-explain anything we needed clearing up for us, she never went too fast and catered the theory to our individual needs.
After our first theory lesson, we got into the pool, donning our wetsuits and scuba equipment, unfortunately for me the pool sessions at the start did not run smoothly. I was having problems equalizing, staying under the water and generally just getting used to carrying all the weight and getting used to breathing solely through my mouth while under water. I became very frustrated (as any person does when they find it hard to pick something up to start with).
Feeling slightly disenchanted by the pool sessions, my fellow divers and B (instructor) knew just what to do to pick me up. They advised that things are a lot different when you are in the ocean and to relax, give it time and you will fall in love. B was patient went through many ways to keep buoyancy and was never flustered by my beginning negative attitude towards it.
I just want to take this moment to say, that especially B and all the instructors make you feel as if you're learning 1 on 1 when really there's 4 people in your group. They never make you feel like a hindrance and really go above and beyond to help you practically and theoretically.
How thankful I was that I was encouraged to stick at it, as my first dive in the ocean was like nothing I'd ever done before, I felt like the cat who got the cream when we came up for the first time, as what we saw was a whole new world. Without the staff and the friends around me I would have let my negative attitude get the best of me and would have given up before I'd even given it a go. Hating to admit it I must say that all the skills we'd learnt in the pool were vital and made the diving in the ocean a lot easier than expected.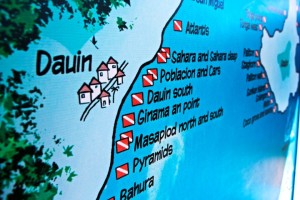 The locations you're taken to dive, are diverse and different – of course they take you to Apo Island (ranked in the top 10 for diving) and all around Dauin/Dumaguete. You almost can't believe your luck that you're learning to dive in such a beautiful place.
As I've said I'm currently doing the advanced open water diving course at Liquid mostly because I just can't face leaving just yet. Perfect location, awesome staff and outrageously good diving sites, where could be better really?
It's hard to pick a company to dive with as there are so many and you never know which one is better but I would recommend Liquid to anyone wanting to learn or just be in a positive diving environment, where you can cater your dive plan yourself and then be shown all the best sites by the amazing local dive masters here who know all the best places to see what you want to see.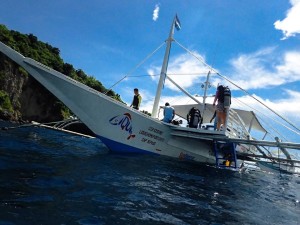 I have a few friends who learnt to dive in places elsewhere who said they felt very rushed to learn the skills and they were being forced to learn the answers to the test merely to pass as opposed to becoming good divers. Here the passionate staff genuinely want you to become the best diver you can be and from the enthusiasm for the sport you learn all you need to pass the tests and so much more.
My friends expressed that they dived and then mundanely had to wash all the equipment, but here it's practically done for you, you'll actually find yourself wanting to help wash as it's a great chance to catch up with everyone and get to know your equipment even better.
There are no hidden costs so you're free to solely focus on becoming the best diver you can be.
Take it from someone who spent hours and hours looking into dive resorts before deciding on Liquid – you really won't regret. It's a home away from home.
Just a word on the wise side put some sun cream on your face so you don't get the scuba diving trademark – a burnt forehead!
Liz Stevens