Becoming a Divemaster is a dream of many scuba divers. It does sound pretty cool: being a master in diving! But what does a Divemaster do exactly, and how can you become one? Let's jump in and see why every diver should aspire to become a Divemaster.
What is a Divemaster?
There seems to be some confusion about what it means to be a Divemaster. It's easily mistaken for the PADI Master Scuba Diver rating, which is the highest obtainable PADI rating for recreational divers. A PADI Master Scuba Diver has a minimum of 50 logged dives, and has completed a minimum of 5 specialty courses, on top of the Rescue Diver Course. Less than 2% of all divers ever achieve this rating, which makes it a very exclusive group. Click here to find out more about the specialty courses we offer!
The Divemaster rating is an entirely different thing. It is the first professional PADI rating, and is therefore the first step divers have to take to start a career in the dive industry. Yet there are many divers who become a Divemaster without ever working as one – and for good reasons.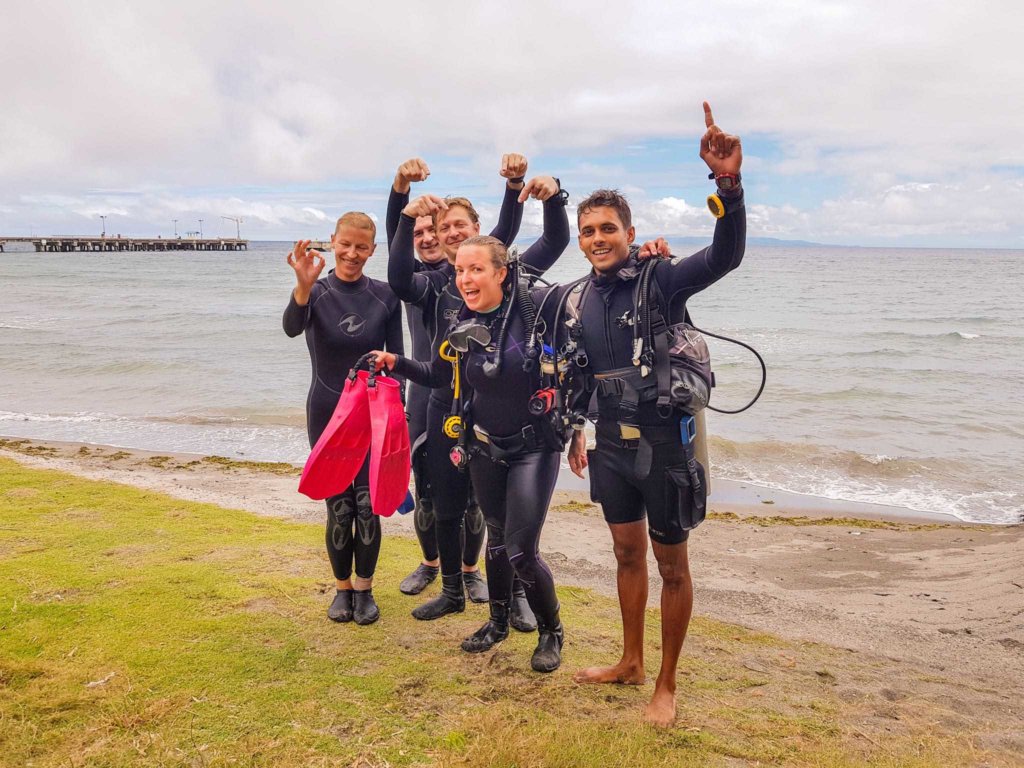 What does it mean to be a Divemaster?
Getting paid for diving – doesn't that sound like a dream? Maybe it does, but for Divemasters it's a reality! In short, a Divemaster does what we all love to do: scuba diving! But of course, the work of a Divemaster consists of a bit more than just that – and it may even vary (more or less) per country. In the Philippines and many other Southeast Asian countries, Divemasters primarily guide dives. This means that you lead a group of certified divers, make sure everyone is safe and point out interesting marine life, among other things.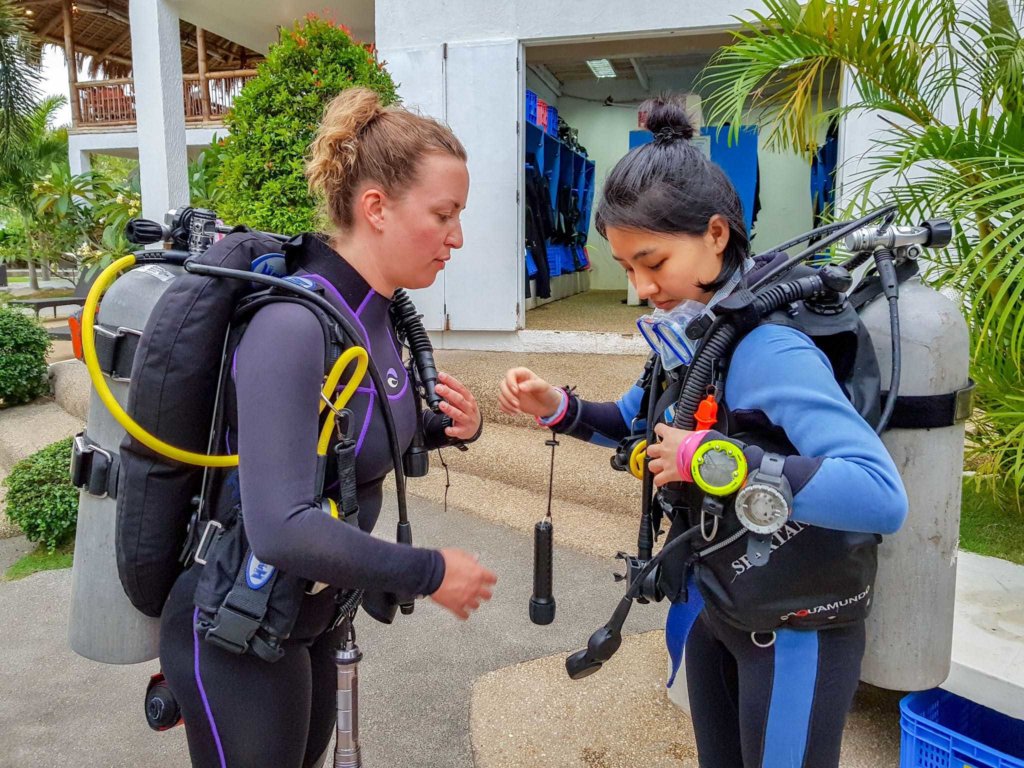 I love my office job – why should I become a Divemaster?
Being a Divemaster allows you to find a job in the dive industry, and get paid for diving. But there are many divers who become a Divemaster, that have no ambition at all to ever work as one. Their reasons may vary, but the most common one is that it's the ultimate way to improve your dive skills and learn more about every aspect of being a diver.
If you've been diving for a few years, chances are you've received extensive training and your dive skills are already well developed. Continuously improving ourselves is something many people strive for: it stimulates our brain and gives a sense of accomplishment. In scuba diving, there is one additional benefit: it will keep you safe(r)! There are many ways to develop yourself as a diver, but the Divemaster Training is probably the most versatile.
But even if you disregard all training aspects, and just want to dive as much as possible, our Divemaster program will give you the best bang for your buck – because it includes unlimited diving! It will be very challenging (if not impossible?) to find a better price per dive at any dive center. Additionally, if you choose to do your Divemaster Training with Liquid, it also gives you an excuse to spend a month or more in a tropical paradise. Do you need any other reasons?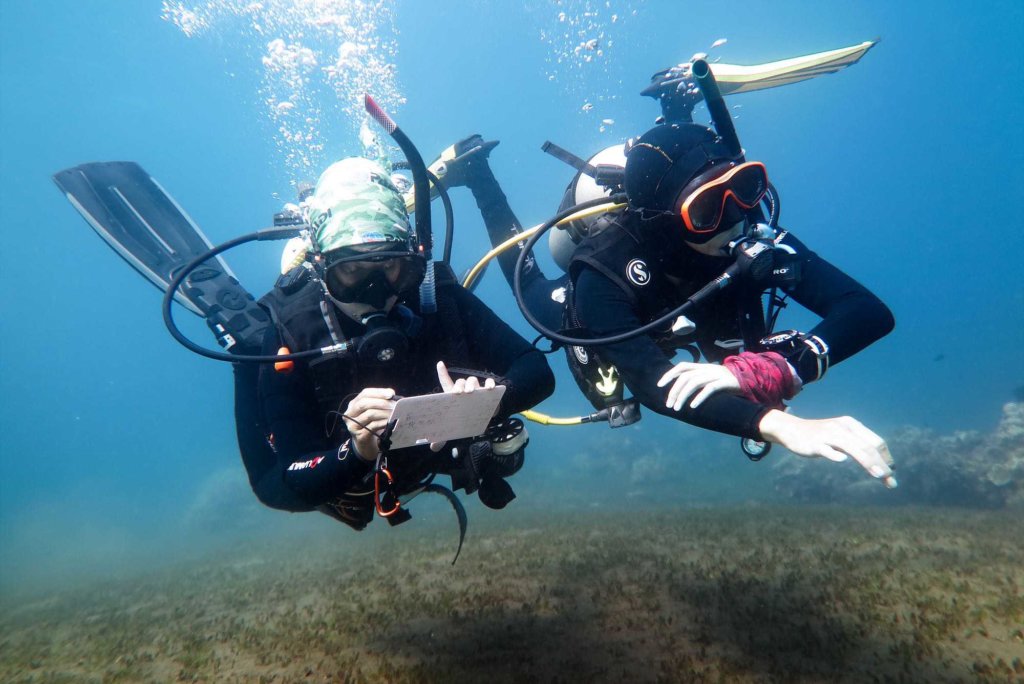 What does the Divemaster program look like?
Liquid offers a tailor-made program to train aspiring Divemasters. Because we believe in transparency, we must warn you: there's a lot of diving involved. But if after all the training dives, you still can't get enough, we offer unlimited diving to all our Divemaster Trainees throughout the whole Divemaster program!
All jokes (and diving) aside, of course there is an official side to the training. PADI requires every Divemaster Trainee to meet certain training standards and performance requirements. These are divided in:
Knowledge development (theory),
Water skills (such as diver rescue and dive skills demonstration)
Practical skills (such as mapping a dive site and a search and recovery scenario)
Workshops (such as conducting a Discover Scuba Dive)
Professional assessment (such as assisting on a PADI course or guiding a dive)
We choose to keep our Divemaster program very flexible, so we can cater to the specific needs of all our students. For example, for those who aspire to become an instructor, we focus more on assisting on courses and skills demonstration. For divers who do the Divemaster training just for fun, we can focus more on marine life or different dive environments. No matter what your ambitions or interests are, we can come up with a personalised program that will help you get the most out of your training.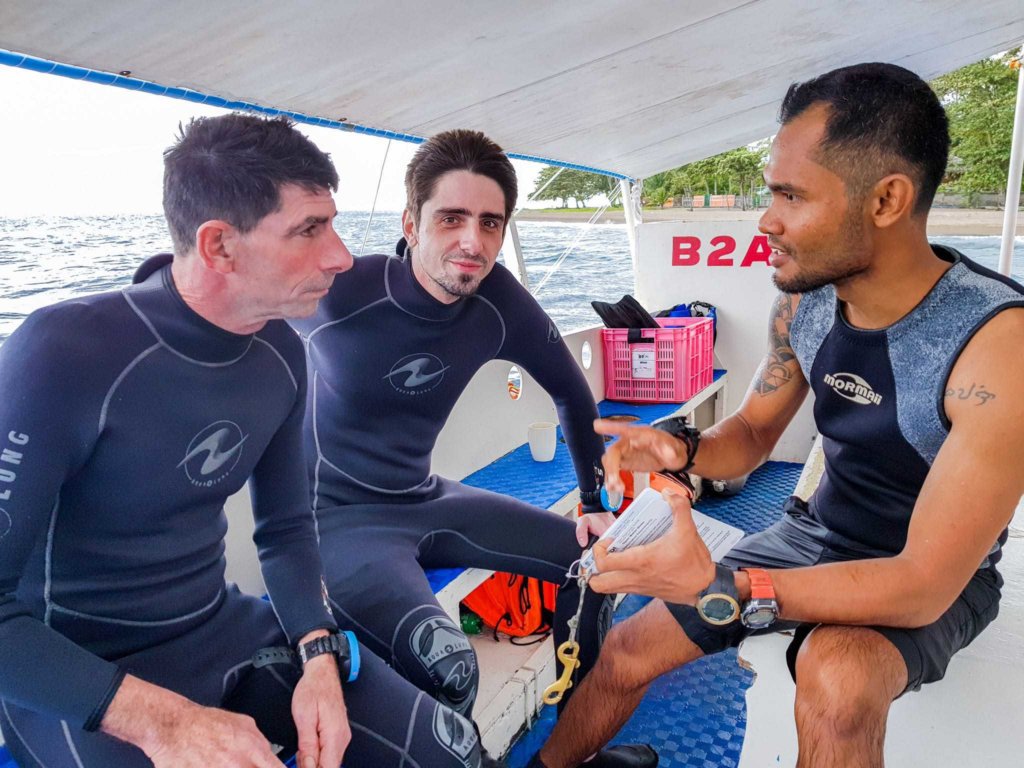 How long does the Divemaster training take?
Because our Divemaster Training is a tailor-made program, you decide how much time you want to spend on it. However, our recommendation would be a minimum of 4 weeks, to make sure you get the most out of your training. If that's too long for you, completing the training in less time is also possible. If it's too short for you, we can extend the program to a maximum of 8 weeks – we promise you'll not get bored!
Divemaster freebies
On top of all the mandatory performance requirements, we also include lots of freebies that you won't find at other dive centers: the Project Aware Dive Against Debris specialty, a Sidemount workshop, Adaptive Techniques workshop, Equipment Servicing workshop, and a Marine Research Introduction Day, just to name a few!
There's a lot more we want to tell you about our Divemaster Program, and why we believe it's for every diver. A lot of information can be found on our Divemaster Course webpage. Or if you prefer to speak to someone in person, please go ahead and send our Course Director Berlinda an email. Will we see you soon in paradise?