With their natural curiosity and affinity to learn new skills, children can make some of the best scuba divers.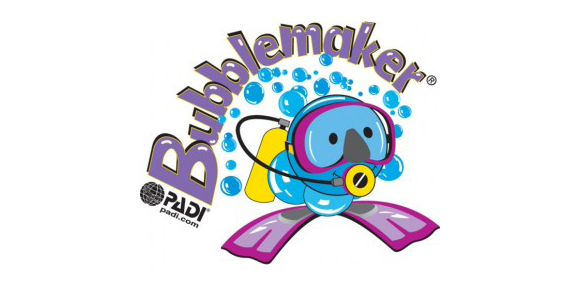 PADI Bubblemaker Course

Liquid is a child friendly place – no choice really considering the owners have two adorable (when they choose to be) youngsters. The fantastic PADI Bubblemaker course is a great way for your children to experience the excitement of the underwater world.
Upon completion of either the pool or sea dive a PADI Bubblemaker certificate is awarded to your new budding diver.
This course is available to anyone over the age of 8. And yes we mean anyone even you 60 year olds!
Conducted in the safety of our own swimming pool and under controlled direct supervision with one of our experienced PADI instructors.
The course consists of:
1 short briefing about diving and safety with both child and parent or guardian.
1 pool session in full scuba where we blow bubbles, play games and generally goof around and have a great time learning how to dive.
If they decide they love it, which let's face it kids normally do, there is an option for a second dive at a controlled shallow dive site on a reef where they can find Nemo and other exciting underwater creatures.
Php2,500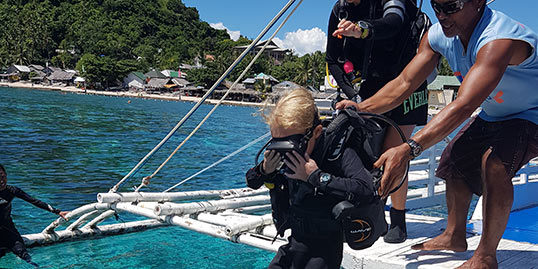 The PADI Seal Team
This course is for young scuba divers who are looking for action-packed fun in a pool by completing exciting Aqua Missions. Do cool stuff in the pool and meet friends.
Have you ever wondered what it's like to dive with flashlights, take digital pictures underwater or float effortlessly like an astronaut? Beyond learning basic scuba skills, there are specialty Aqua Missions, such as wreck diving, navigation, buoyancy, environmental awareness and more.
This course is available to anyone over the age of 8. No prior experience with scuba diving is necessary, but kids should be comfortable in the water. Parental approval is required.
The course consists of:
Part one, Aqua Missions 1 – 5, covers basic scuba diving skills, such as breathing underwater, clearing a mask of water, recovering a regulator and swimming around experiencing the sensation of being weightless.
Part two, 10 specialty Aqua Missions, includes adventures like creature identification, search and recovery diving, and skin diving. Complete all of these and you'll become a PADI Master Seal Team Member – joining an elite group of young scuba divers.
Php7500 – Part 1
Php8500 – Part 2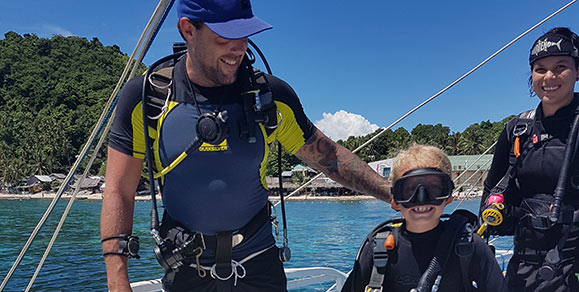 The Junior Open Water Diver
The most popular scuba diving course in the world is the PADI open water course. Children as young as 10 can become PADI Junior open water divers.
Their dive today philosophy is what makes this course so great. Once you have signed up you will be in full scuba gear and breathing underwater within the day.
Upon completion of the course you will receive a PADI Project AWARE Open Water Certificate that is a lifelong, world recognized diving cert.
The course is 3-4 days and gives you the foundational knowledge and skills you need to be a diver.
The course consists of:
5 confined water sessions, which will take place in our salt water training pool.
During these sessions you will take your first breaths underwater and learn all the skills necessary to make you a diver.
4 open water dives take place at different ocean dive sites, you will go to a maximum depth of 12mts/40ft.
Php17,950