There are less than 100 Career Development Centers (CDC) around the world, Liquid is one of them.
With this ranking we offer the best training through the highest ranking PADI facility with the highest ranking instructor.
All our divemaster programs are conducted by one of our in house PADI Course Directors.
Are you fed up of the office and the daily commute to work? Have you often thought of living in the sun, diving free every day and getting paid to do so? Why not sign up for the PADI divemaster course? We did, and now our commute is a two minute stroll down the beach, our "office" is the sea and the best bit is we go diving every day!
Here at Liquid we want you to experience it all. Depending on whether you just want a break for a couple of months, are taking a year out from the normal routine or are looking to change your life we can offer you a divemaster course to suit your needs. The Liquid Divemaster Course can offer you the skills and knowledge you need to get a job doing what you love, anywhere in the world! You can become a diving professional in as little as 4 weeks or take as long as 4 months, it's your choice! Whichever option you decide you will love being a part of the Liquid Family.
LIQUID DIVE SHOP
We designed our dive shop with divers in mind. Having all worked in the industry for as long as we have, we have tried to build a shop that covers all the basic necessities for a diver. Our large equipment room has plenty of ventilation and space; there is ample hanging room for Liquid's 40 full sets of rental gear, all our snorkel equipment and a personal equipment room for those divers who bring their own equipment with them, in this area there is a charging area for cameras and dive lights.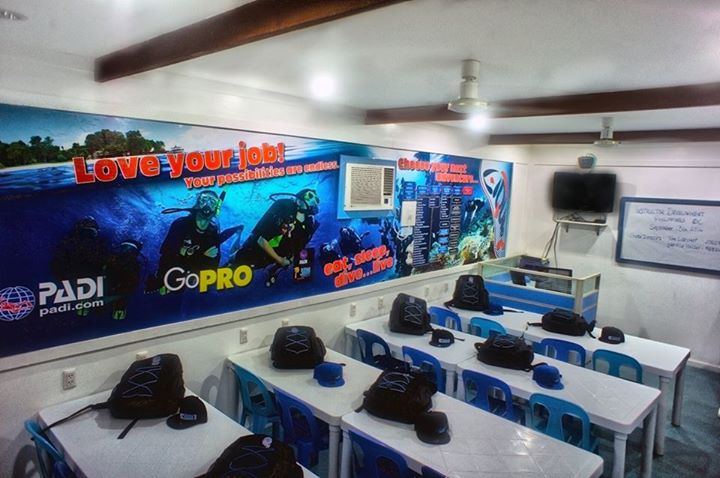 In front of the equipment room is our large rinse area. Multiple rinse bins for BCD's, regulators, wetsuits and cameras are situated in a covered area next to our outdoor showers and large dedicated briefing area. A staff member is always on hand to help with the rinsing. Our briefing area has plenty of room for divers to sit and relax while listening to your guide or instructor explain the days diving and events. All our briefings use colorful maps to help you visualize the dive sites.
We have two dedicated classrooms both of which have air con and ceiling fans. Both classrooms are located on the behind the rinse area with a great view or all our divers coming and going. Both classrooms are interactive with plenty of visual aids, large library full of reference materials; dive and fish books making them great places to study. We also have the chill out area upstairs where you can take your books relax on a sofa and read all about diving physics while enjoying the views of the ocean and surrounding islands.
'Sun Dancer' is our dive boat. She is a 16.5mt/55ft dive Bangka that we designed ourselves. At the bow of the boat there are 2 large ladders that make climbing up after a dive nice and easy. A large sun area leads on to an elevated shade deck surrounding by large benches and plenty of room to store your dive boxes and tanks. At the stern of the boat is a small kitchen and CR (that's toilet for most of us). The captain has a marine radio and mobile phone so communication with Liquid dive shop is never an issue; the divemasters ensure that the boat is always equipped with oxygen and first aid. We have free drinking water, tea and coffee on the boat and a nice dry place to store the buffet lunches when there are day trips.
'The Dive Jeep' is our custom built jeep specifically designed for divers. A great and easy way to get you to all our shore dive sites. She comfortably fits 8 divers, driver and dive guide. All dive boxes are secured on our specially built roof rack and tanks are stored standing up in a custom designed tank rack; and like 'Sun Dancer' the jeep has its own oxygen, first aid and mobile phone.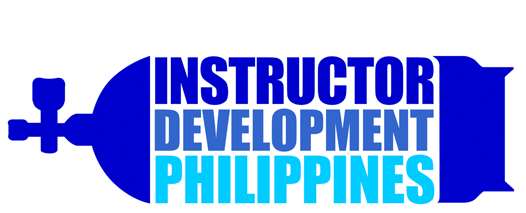 WHY LIQUID?
As a PADI 5* CDC Dive resort our aim is to offer the most affordable, comprehensive divemaster packages all situated on the beaches of Dauin! Our dive team consists of 5 full time PADI instructors and 3 PADI divemasters led by our 2 in house PADI Course Directors. Together they have over 30 years of diving experience in many different countries stretching from the warm waters of Asia and the Caribbean to the cold waters of Canada and Northern Europe. All our divemaster programs are run by Berlinda one of our Course Directors which ensures you receive the highest possible training.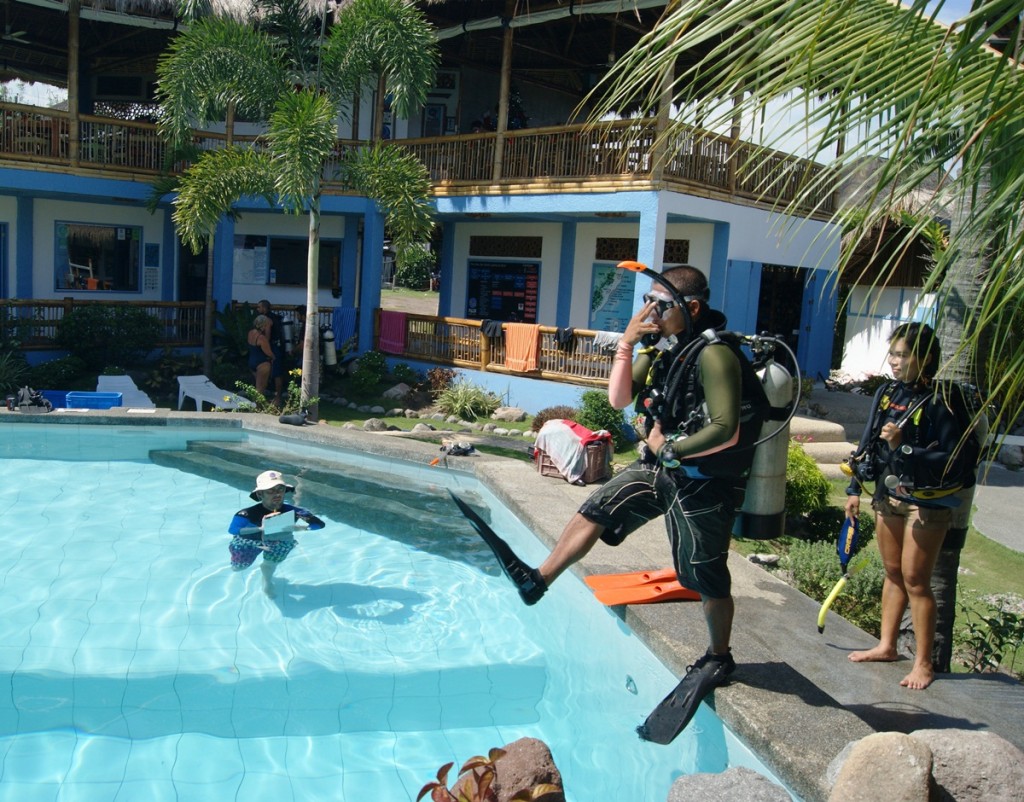 Each of us started in the same place as you, and we remember what it feels like to crave the dream. With so many different choices out there it is difficult to pick the right spot for you. At Liquid we want to make it as easy as possible. We have designed a number of different divemaster course packages from all inclusive to a more a la carte style. If you want to have no worries other than what dive site to bubble around at every day, then go for one of our all-inclusive dive packages. This option includes everything from pick up on arrival to accommodation, full time divemaster training and tuition from one of the team. Our 'a la carte' option is more selective, let us know what you want and we will see what we can arrange.
We pride ourselves on our professional yet fun attitude to teaching. Safety and environmental issues are always at the forefront of our minds in any teaching situation and we impress the importance of both of these areas into everything. We do not want to be one of those big dive shops that churn out hundreds of DM's every year! Instead we keep it small. We have limited spaces on our divemaster programs so we can maximize on education and diving experience.
Divemaster Accommodation
At Liquid we understand that most divemaster candidates want to stay as long as possible and money is a factor, for this reason we have built budget rooms that are only Php350/night for our divemaster candidates. These rooms are situated behind our dive center and have ceiling fan, queen bed and shared bathrooms.
We offer discounted rates on our beachfront cottages for our candidates. There are also options for longer term rental in the area that we are happy to help you to locate once you are in Dauin
Beyond Divemaster
If you are thinking of making the jump to PADI Instructor we can help you with that. Liquid and Atmosphere Resorts and their 4 in house Course Directors Gabrielle Holder, Tim Latimer, Berlinda Koolen and Tracy Chan offer the Philippines most comprehensive IDC program. Through Instructor Development Philippines you can take your training to the next level and beyond.
Our joint IDC package is like no other in the Philippines. Experience 2 very different 5* CDC dive centers while experiencing world class training.
What Happens Next?
Once you leave the safety net of Liquid do not panic we will not desert you, after all you are now part of the Liquid Family! We will make sure you are ready for the big wide world of the diving professional. Before you leave our team of professionals will help you create your own personal diving CV and cover letter. We will introduce you to the PADI Pro's site and go through the employment board with you. If you want we can set up mock interviews so you have an idea of the type of questions dive resorts and centers ask potential employees. We will even help you apply for your first job and depending where you go in the world can hook you up with other professionals we know in the industry!
Remember we are only an email or phone call away! If you have the opportunity of a job but are just not sure it is right for you, then contact us and tell us your concerns and we will give you our advice. If you just feel like touching base or bragging to us at how amazing your new divemaster job is then we encourage you to email!
We want to know just how successful our Liquid Divemasters are out in the big blue world!
The PADI divemaster course involves a number of classroom sessions covering 9 chapters of the divemaster manual, 2 part comprehensive theory exam covering topics from diving physics to equipment; and a number of water skill development sessions which include assisting instructors, leading recreational divers, conducting divemaster programs and a skill circuit.
In order to enroll in a divemaster course there are a number of pre-requisites that you need to meet.
Pre-requisites:
Certified PADI Advanced and Rescue Diver (or equivalent rating)

18 years old

Logged 40 scuba dives

Completed EFR primary and secondary care training within 24 months

Medically evaluated and cleared for diving by a physician within 12 months
At Liquid we have created a few different divemaster program packages for you to choose from. If one of our packages is not quite what you are looking for then email us and we will design one to suit your needs.
As a 100% Project AWARE dive resort we want to make sure all our divemaster candidates understand the importance of protecting the marine environment. For this reason we now include 'totally at our own expense' 2 fantastic Project AWARE Specialty courses in all our divemaster programs. Email us for more information about these and our other Project AWARE specialty courses that we offer.
As a 5* CDC Dive Center we take standards very seriously, as such we also include all the required PADI divemaster materials in all our courses. The PADI crew pack costs approximately Php10, 000. If you choose to purchase this prior to your arrival then we will simply discount this price from your chosen course.
Divemaster Basic
Are you already a Rescue diver?
The basic course is aimed at those who are already Rescue Divers and have limited time. The course can be completed in 4 weeks and includes:
PADI divemaster crew pack and instructor manual
FREE Scuba Review/Tune-up
FREE Project AWARE Dive Against Debris & Shark Specialties
Divemaster course
Unlimited diving
FREE pick up from Dumaguete City
FREE Wi-Fi
FREE Liquid t-shirt and log book
Discount on all dive equipment
Discount at Liquid Bar and Restaurant
Sanctuary fees
Divemaster GoPro
Are you not yet a diver?
This course is aimed at those who have a desire to become a dive professional and are not yet certified. The Go Pro course can be completed in 6 -12 weeks and includes everything in the Divemaster Basic package as well as the following:
Open water course, PADI materials, certification, use of required diving equipment
Advanced course, PADI materials, certification, use of required diving equipment
Rescue course, PADI materials, pocket mask, certification, use of required diving equipment
Emergency First Response course, manual, certification
Divemaster Plus
Are you already an Advanced diver?
This course is aimed at those who want to complete both their rescue diver and divemaster course. The Divemaster Plus course can be completed in 5 – 7 weeks and includes everything in the Divemaster Basic package as well as the following:
Rescue course, PADI materials, pocket mask, certification, use of required diving equipment
Emergency First Response course, manual, certification
Divemaster Experience
Are you already a Rescue diver?
The basic course is aimed at those who are already Rescue Divers and have limited time. The course can be completed in 4 weeks and includes:
This course is aimed at those who want that little bit extra! Five specialty certifications alongside your divemaster certification! Enter the world of professional diving with a wealth of experience under your belt. The Experience course can be completed in 5-8 weeks and includes everything in the Divemaster Basic package as well as the following:
Nitrox Specialty, PADI materials, certification
Navigation Specialty, PADI materials, certification
Deep Specialty, PADI materials, certification
Master Scuba Diver Rating
As a diving professional it makes sense to have your own full set of personal dive equipment. We understand that not every diver has the possibility or know how to warrant buying a full set of gear prior to their divemaster course. Here at Liquid we have 2 options for you, either rent a full set of gear off us at a very reasonable price for the entire duration of your divemaster course or use our collective experience and advice on purchasing your own personal full set of gear at a very reasonable price. Email us for our divemaster equipment packages.
Here is a list of the recommended dive equipment a divemaster should have, which just happens to be the same equipment a PADI instructor needs!
If you are thinking of purchasing some equipment before getting to us, don't hesitate to drop us a line if you want some advice.
It is also highly recommended to have your own dive computer. We do not include these in our rental packages but we can of course help you purchase the one that most suits your diving needs. We also recommend purchasing your own blank slate (very useful) and fish book or identification slate.
Required Equipment
BCD with low pressure inflator

Regulator with alternate air source

Fins, mask and snorkel

Air gauge

Depth gauge

Timing device

Compass

Exposure suit

Diving tool/knife

2 surface signaling devices – 1 visual and 1 audible