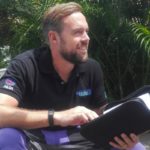 First things first, this is only my two cents, you can buy whatever catches your eye. However I've been through my fair share of dive gear (both personal and for the dive shop) and thought it might be useful to share. Take from it what you will.
Before breaking down each piece individually I feel there are a few general tips that need to come into play. For each post I will elaborate on another piece of gear. The plan is to start from the feet and work our way up. So if you want tips on masks, it will be a while.
Number one on the list is: don't fall for gimmicks. The best scuba gear is the stuff that will stand the test of time. Divers are notorious for rocking up to the dive shop with some pretty ancient dive gear. Unlike some sports where you need to be kitted out in the latest and greatest tech, divers are proud to announce that their gear is 20 years old and has thousands of dives of wear and tear on it. This only works if what you have can stand up to the test of time. If you get something new and cutting edge this year you better be sure it will still be the "standard" down the line. You don't want to be laughed off the boat for showing up with some ridiculous gimmick type gear (I'm looking at you Aqualung SlingShot fins). Of course there are innovations that do make the grade and you might luck out be able to say "I had those when they first came out". But it's more likely that you will be ditching whatever it was and having to purchase something else. I would stay away from being an early adopter with scuba gear. Wait till the R&D team has worked out all the kinks and get your stuff after it's stuck around for a few seasons.
Next up on general suggestions is to "try it before you buy it". It's not always possible, but whenever you can manage it you should definitely spend some time underwater with whatever you are getting before buying. What seems great on a website might be totally different than what you experience on a dive. It's why I am not one of those people that feel confident to purchase clothes online. I just don't trust they are going to fit right enough to walk out the front door with them on. One of the best ways to test dive gear is while on a dive holiday (I know that doesn't help when you want to be kitted out before the holiday). If you look around at your fellow divers there will generally be a wide range of equipment. If you ask people about their gear they will tell you everything you want to know. Usually you will get the sales pitch that they got when they bought it, but on top of that you can gather some honest feedback about their experience with it. It might take some prodding to dig up any negative points about the gear (nobody wants to talk about what they don't like about their expensive purchase), but there is always something that is a trade-off for something else.
Besides what to buy you might want to consider when you buy scuba gear. If you have never tried diving before, you obviously should give it a try before getting every piece of gear the salesman tries to fob off on you. But if you are already a diver then the logical question is. What gear should you get first? I guess it comes down largely to a few factors. How serious are you going to be about diving and how often are you going to use it. There is nothing better than having your own BCD/wing, but it's a big piece of kit to take on holiday and use for one dive. Never mind the excess baggage fees you might be risking. But small items like masks and computers are fairly easy to shove in a bag and don't have to break the bank. On top of those considerations you should take into account your experience level. Every diver has preferences in the type of equipment they like to use, but in order to figure that out you need some dives under your belt using different gear. If you buy a certain model of mask because that's all you have ever used you might be very happy with it until the day you try a different one and realize it fits better, has a better view range, a more comfortable seal etc. As with any new sport, the desire to get a full set of kit has its own appeal, but if you can spend even just a while actually doing the sport and improving you will be able to identify what is your particular preference.
Lastly, don't get hung up on the price. Just because it's expensive doesn't make it the best. (does anyone remember the Mares Ruby?). That can work both ways. However don't buy the cheapest stuff just to save a bit. It's better to get something that rides the middle line between high end quality and value for money.
Oh and of course the color is the most important single feature. If it doesn't all match don't even consider it. Choose your color scheme and let that dictate all future purchases.
Happy shopping, divers!
– Tim