Looking for something to do on a day off from diving or want to get off the beaten track? We can arrange some amazing adventure day trips for you!
Each of our adventure tours are led by certified local mountaineering guides,who have first aid and rescue training. Our aim is to provide challenging, exciting adventures in the Negros Oriental and South Cebu area, all tours are well planned, well equipped and most importantly, a lot of fun!
Mount Talinis is difficult to miss no matter where you are on the Dauin coast, and it offers a host of spectacular treks and adventures. A short trip to Cebu adds a series of breathtaking limestone slot canyons to the menu.
We have selected three of the most interesting day trip adventures that showcase Talinis and Southern Cebu. All tours are designed so that guests will be back at the resort in time for their evening meals. So in normal circumstances, guests will return between 4pm and 7pm.
Each trip has a different rating system as far as Adrenaline and Fitness is concerned, so it's best to figure out where you stand, and be careful not to bite off more than you can chew.
Due to logistics and paperwork requirements we only arrange adventure tours for our in house guests. Contact us for more information and prices on our tours.
Trekking: Talinis Odyssey
A grand tour of Talinis' forests, lakes, sulphur vents, rivers and waterfalls.
Trip Type: Full day trek, optional swimming
Physical Exertion:
Distance: 16 km
Max. Altitude: 1,420 m
Total Ascent: 620 m
Terrain: Steep mountainside, forrest, rivers
Fitness Factor: 3 - 4
Adrenlaine Factor: 2 (or higher if you swim in the river!)
Max Group Size: 12
Pickup: 08:00
Dropoff: 17:00
Mount Talinis is an extensive, complex-volcano system stretching along the Dauin coast. The summit is at just over 1,900m. We start from an abandoned geothermal exploration site on the side of the mountain 800m above sea-level. Large boulders lie scattered around here, giving an indication of the violent nature of the  volcano's past.
A strenuous ascent up steep terrain eases after the first 30 minutes and leads through cool forests to lake Yagumyum, which nestles between Mount Yagumyum and the main peak of Cuernos de Negros. The lake marks the highest point on the trail, although it's not quite all downhill from here.
Skirting the lake, we descend steeply through think Forrest and emerge at a series of sulfurous vents. Following a stream, we find ourselves in a beautiful meadow at around 1,200m. It's several degrees cooler up here than at the coast, which makes this a great place to stop for lunch. A short hike leads us to the Twin Falls waterfalls, from there we follow the river down a long trail to reach our destination at Casaroro Falls.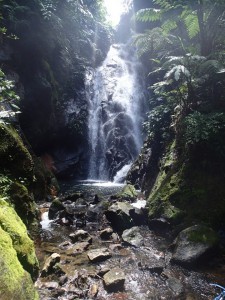 Trekking: Talinis Summit Assault
A no-nonsense, straight-to-the-top trek with a beautiful crater lake to cool off in.
Trip Type: Full day trek, optional swimming
Physical Exertion:
Distance: 14 km
Max. Altitude: 1,903 m
Total Ascent: 1,100 m
Terrain: Steep mountainside, forrest, rivers
Fitness Factor: 4 - 5
Adrenlaine Factor: 2 (or higher if you swim in the crater lake!)
Max Group Size: 8
Pickup: 08:00
Dropoff: 16:00
Our Summit Assault is a physically demanding trek with over a kilometer of vertical ascent. Needless to say – you also have to get back down! Only people of a good level of physical fitness should consider this trek and don't forget to bring lots of water.
Following the same path as our Talinis Odyssey trek, the Summit Assault splits off at lake Yagumyum and curls around a minor peak to reach the crater-lake, lake Nailig at 1,600m. We catch our breath here before the final 300m push to the summit, which is the highest point on the crater rim. If the clouds are kind to us, you'll be treated to fantastic views over the crater.
Lunch is taken next to the lake and there's time for swimming too, then we head back down the same path to the pickup. You will thoroughly deserve your evening beer, which will taste that much better with the knowledge that you have conquered Talinis.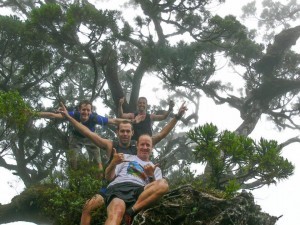 Canyoning: Kawasan Confidential
Hiking, swimming, jumping and diving in the beautiful canyons of Cebu.
Trip Type: Full day canyoning, swimming required
Physical Exertion: 3 hours
Distance: 5 km
Max. Altitude:
Total Ascent:
Terrain: Limestone slot canyon. Rough uneven riverbed. Slippery in places.
Fitness Factor: 3 (and should be a confident swimmer)
Adrenlaine Factor: 3 – 4 (depending on how high you jump from!)
Max Group Size: 8
Pickup: 06:30
Dropoff: 17:00
Badian in southern Cebu is home to Kasawan Falls. This series of breathtaking waterfalls is popular with tourists who visit to swim and relax. What they don't realize is that just beyond the falls lies the Matutinao river and a breathtaking canyon that carves its way down from the center of the island.
We begin our adventure with a 40 minute drive to Sibulan port, where a quick ferry crossing takes us to the southern tip of Cebu. Badian is about an hour and a half drive up the coast. After a short hike, we drop into the canyon (literally) from a rocky outcrop. This 10m jump is the one of the biggest in the canyon – but is also completely optional if you have a fear of heights (the highest required jump is around 3m). From there, a combination of wading, swimming and jumping takes us past towering rock formations and vast stalactites.
We eat our lunch in the base of the canyon before pushing on to rejoin the tourists at the main Kawasan falls.
The journey back is spent relishing in the fact that we've experienced part of the world that few will ever visit.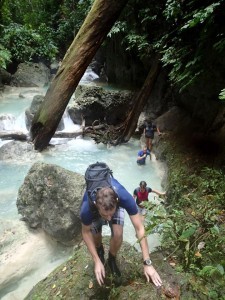 Adrenaline Factors explained
We give each tour an Adrenaline Factor (AF) from one to five. An AF of one implies a straightforward hike or trek with no difficult terrain and no feeling of height or exposure. At the other end of the scale, an AF of five implies significant exposure, perhaps with a need for rope work and abseiling, or in a canyon, it could imply numerous very high jumps, lengthy swims or waterfall abseils. Each tour's description gives specific details on what contributes to its AF rating.
Fitness Factors explained
Our tours are aimed at physically active people and some of them require particularly good physical fitness. A Fitness Factor (FF) rating is designed to give you an indication of how fit you need to be to comfortably complete the tour. That doesn't mean you won't have a few aches and pains the next day, but it should help you to determine if a tour is within your personal limits.
An FF grading of one implies that you should be comfortable walking over good terrain with minimal assent / descent for several hours at a moderate pace. You should expect to cover around 6km in 3 hours in a hot and humid conditions.
An FF grading of five implies a difficult and sustained tour that continues for many hours and may have significant assents or descents. The pace may be high to ensure that the tour can be completed in the required time. A variety of activities may be required including scrambling, climbing or swimming.
Extreme trips
Whilst all of our trips should help you work up a sweat, some are created to push you to your limits. Our extreme trips are exactly that. You need to be physically fit and up for a serious challenge. As an example, our Talinis Extreme tour is often done over two or even three days by the local mountaineering clubs. We do the whole trip in a single day, ascending and descending one sixth the height of Mount Everest. Extreme tours are tough and physically demanding – but also incredibly rewarding.
Restrictions
Participants in all of our tours must be a minimum of 12 years old. For Extreme tours, participants should be at least 16 years old. Non-swimmers are not allowed to take part in any tours that require swimming – even if wearing a life jacket.
Our tours generally travel over rough, uneven ground through a variety of environments, so you should prepare accordingly. The following list makes some suggestions on what to wear and bring, although there is one mandatory requirement… no flip-flops!
Footwear
Walking or hiking shoes with good grip suitable for muddy and steep terrain. Full- foot sandals (e.g. Merrells) are adequate but not advised and although the locals seem to have no problems, flip-flops are a definite "no"!
Clothing
Cotton T-shirts and shorts are OK, but the Talinis treks can get cool higher up, especially in wet weather, so a lightweight fleece or jumper could be useful. Some sections have quite dense foliage, so you may be more comfortable with long trousers to stop your legs getting scratched.
Liquids
A minimum of three liters of water or isotonic drinks are needed per person. There are some freshwater springs on the mountain but they don't always flow.
Suncream
Definitely.
Camera
Definitely, although on the tougher tours, you might want to leave that heavy SLR behind and bring a compact.
Change of Clothes
Optional. You will got hot, sweaty and dirty and so it may be nice to have something to change into when we complete the trek. Your call.
Kit List for Canyoning and River Walks
Footwear
Trainers, walking or hiking shoes or full- foot sandals are all fine. Wetsuit boots with a firm sole also make for excellent canyoning boots! Bear in mind that whatever you wear will be soaking wet and muddy. Again, no flip-flops.
Clothing
Shorts and T-shirt are fine, although you might want to wear a long-sleeve top and trousers to cut down on potential scrapes from sliding over rocks (such clothing is heavier when wet though). Rash-guard tops are great for canyoning and keep you a little bit warmer.
Liquids
Bring two or three liters of liquids.
Suncream
Don't bring it! You will be in a deep canyon for most of the day and won't see much of the sun. Suncream is harmful to the fragile ecosystem in the riverbeds we travel, so please don't wear it.
Camera
If you have a waterproof camera, or one with an underwater housing then bring it at your own risk. There are great photo opportunities in the canyons but you need to weigh that against the chance of bashing or dropping your camera
Change of Clothes
You'll be soaking wet. It's a long ride home. Do we need to say more?