I'm not saying that it's not an awesome thing to do.  I'm just wondering why it seems so lame to the non-diver.  Close your eyes and picture this:  Actually keep them open to read, and then close them.
'A group of people gathered together laughing and joking.  One is a slim blonde with fluorescent pink shorts and a lime green loose fitting shirt held together by a blue and white belt tightly cinched just above her navel.  She is brushing her truly massive bangs out of her face with her inch long painted nails.  The man is giving her a high five while checking his pager that he just grabbed from the belt holster on his khaki shorts.'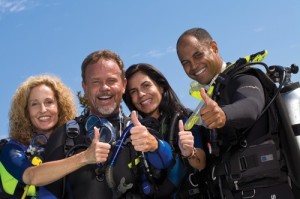 Does that sound like the start of a great movie or what?  If you have ever seen a PADI movie you can picture the scene immediately.  The PADI videos are horrible! Not in an educational sense(they actually are very good on that front), but just in the sense that it is uncomfortably bad acting and scripting to have to sit through.  Sure there is information to be learned but at what cost?
When students sign up for the PADI Open Water Diver Course they have no idea what is in store for them.  Sure they know they will soon be practicing confined water skills and getting out on some open water dives.  But nobody ever told them that the course included some truly horrible videos.
Most likely people have seen diving on television and the movies already.  Films like Into the Blue with a scantily clad Jessica Alba or The Deep with Jacqueline Bisset for the older generation.  Everyone has flipped to National Geographic and seen scenes from the sardine run in east Africa or whale sharks in Ningaloo Reef or documentaries on the amazing biodiversity to be found underwater in the Galapagos Islands.  Our Ocean is amazing and there are countless books and magazines that people are exposed to where they can get a glimpse of what is truly out there.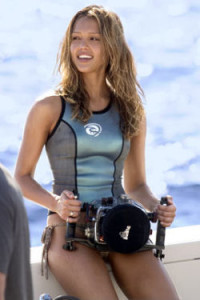 But what could be cooler than actually seeing it in real life?  It's like an alien world just a stones throw from our own.  How cool is that?  The answer seems to be that it's not cool at all.  Or at least that only strange and old fashioned people care to take part in it.  At least that's what the video would have us believe.  The outfits they wear are all staples of the eighties.  Fashion does go in circles but PADI shouldn't wait for the things on the open water videos to come back.  Outside of the clothes there is the scuba gear.  It is almost comical.  I have been searching for years to find a pink tank to go with my pink mask and snorkel, pink fins, pink wetsuit and pink gloves.  It seems they were all phased out in the late eighties or perhaps early nineties.
What about other sports?  Do they suffer the same stagnation as scuba diving?  Try to picture in your mind a group of surfers.  I am guessing it is a totally different image than the one you have of divers.  What about skiing?  If you think of eighties ski attire it is comical.  But it has evolved, just look at snowboarders.  On the other hand divers are not only decked out with the same style as 1989 but sometimes rocking the actual BCD or wetsuit they used over twenty years ago.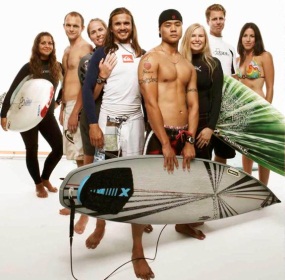 Then there are the jokes, I have to use the term lightly though.  Jokes are usually funny.  Sure I laugh while watching the PADI Open Water video, but at it, not with it.  More often than not I am cringing and shaking my head.  Do you all remember the fat flower shirted American tourist that is supposed to be the comedic relief?  It's painful to watch at times.
Now I'm not expecting to have Hollywood summer blockbuster type affairs for training videos.  But could we meet in the middle somewhere.  Instead of something that looks like a school videography project where all the students get to take a turn acting and directing and calling the shots, could we bring in some professionals?  It is the Professional Association of Diving Instructors after all.  PADI knows diving, Hollywood knows movies.  Maybe we can let the professionals do their respective jobs.
Since PADI has a head office in California you would think there would be a possibility for some connections.  Exactly how many aspiring actors/directors/writers etc do you think there are in California alone?  Surely enough!  Most likely PADI wouldn't even need to pay them.   If you are struggling to break into film making who would pass up an opportunity that would allow you to put out a movie that will be seen in nearly every country of the world?  And not just in an expensive theatre for a few weeks.  It would be played throughout the year , season after season.  I would recognize any of the "actors" from the PADI open water video, after all I have been watching it weekly for over ten years.  PADI just recently certified it's 20 millionth diver.  That's like having a youtube video with an insane amount of hits.
I think PADI is missing an opportunity here.  Why not try to get some big name celebrities involved.  Added exposure for them and PADI might actually get a training video that people want to watch and talk about after it is finished.  To be fair they do talk about the video now, but in the way people talk about films like Catwoman or Gigli.  Diving is cool, but the videos are definitely not.  Can we sort this out?  Please?