It's interesting to think that this time 18 months ago I was still wearing a suit to work. Ok, so I was wearing a (sometimes pressed) shirt to work and suit trousers with my jungle boots. Since then I have plowed through the jungles of the Kelabit highlands. I arrived at Liquid Dumaguete on the Dauin coast in the Philippines a year ago on October 5th 2011, since then life has continued on a sporadic but always UPWARD spiral. Interestingly, having never really snorkeled before, almost a year to the day that I put on my first set of SCUBA gear, I passed my PADI IDC– Instructor Development Course – and IE – Instructor Exam – a moment I am not ashamed to say bought a tear to my eye. Shhhhh… I don't think anyone noticed.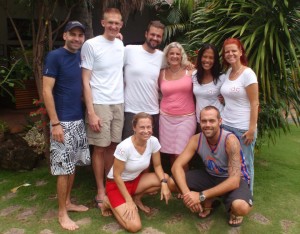 The IDC is a two week intensive course designed to help your transition from a DiveMaster to an Open Water Scuba Instructor – OWSI – using the knowledge and experience of the Staff Instructors: Tim (Liquid Dumaguete), Windy, Ulrika and Rae (Atmosphere Resorts) under the careful guidance of our Course Director Gabi. I cannot begin to explain how brilliantly helpful and fun these guys were during the course and nor could I even come close to explaining how well Gabi was able to nurture the best from all the candidates. I learned A LOT and not just about the diving side of things.
I am entrenched at Liquid Dumaguete whether they like it or not so I was fortunate that we run our IDCs in conjunction with Atmosphere Resorts so I had a pleasant transition period while studying. Any of you who know me well enough will know that head-down 'book learning' is not a strong point of mine so in the lead up to the IDC I was lucky enough to be surrounded by able and eager people to quiz whenever I was unsure of ANYTHING. In a beautifully paradoxical twist, dive theory has become one of my favorite parts of diving and was something I found extremely useful to have prepared in advance as well as the ever present PADI skill circuit.
Day 1 bought back that first day of school feeling in my stomach and, in order to quell my nerves, I thought I would have a double espresso for breakfast just before we sat the practice exams. Turns out being jittery and starting to jibber jabber was not the perfect exam prep. Good espresso though!! I aced my exams and my nerves settled. I was going to be going through the process with two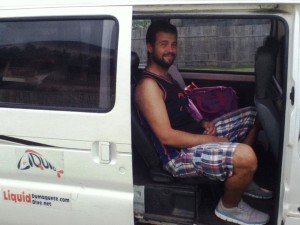 other candidates. There was Paul from Hawaii who worked for the secret service and modeled an extremely tidy 'high and tight', a great guy with a wicked arid sense of humor  Then there was Brenda, a super sweet Filippina DiveMaster who never stopped smiling. I couldn't have asked for a better team to be a part of.
As the days went by, we PADIfied our classroom presentations, refined our skills demonstrations, improved our management of open water situations and actually tried to teach each other varying parts of the many PADI courses. As time passed we grew closer as a team, we grew more confident in our abilities and HOPEFULLY started to fit the mold of a PADI OWSI. The wonderful thing for me/us was how much attention, how many different points of view and how many resources were made available to us. Not only did we have EVERYONE at Atmosphere I had the team at Liquid Dumaguete, admittedly, this was very useful to ME in particular.
After skills circuits, exams, tears, giggles and a general roller coaster of emotions our IDC finished, we were molded into Emergency First Responder instructors and then the 'dreaded' Instructor Exams. This is a two day extravaganza of tests and appraisals. Our examiner – George – is a bit of a local PADI celebrity having overseen thousands of exams, certified many instructors whilst still being a remarkably nice, kind and most importantly for me, APPROACHABLE man. He was firm but fair where it counted and a bastion of knowledge whenever we needed clarifications. The best was… we ALL PASSED. I am not going lie to you, there was a horrible moment when it looked like one of us MIGHT have been in trouble but it was all ok in the end. I don't think I realized how much I cared about the outcome until those wonderful words were said. "Congratulations Adam…" (the rest is a blur. I would love to take the manly stance on this but I definitely shed a (single) tear of happiness/relief/pride/excitement.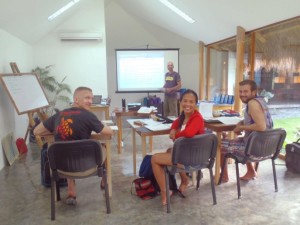 It is at this point that I have to direct a few nods of recognition to those who deserve it. Naturally Ma and Pa and brosef are at the top of the list – you guys have helped me become someone whom I am proud of for the first prolonged period of my life.  To my new found friends and 'family' here on the Dauin coast – a period in my life which has been titled the time of the Jims – Jungle and 'Our Old Friend'. Thanks boys, I feel very lucky to be able to call you both CLOSE friends. My mentors (a word I hate and use rarely) and bosses – Tim and Zoe – without whom I would probably still be sat in a jungle somewhere drinking through my cleanest pair of socks.  To all of you. Thanks a bajillion.
I have said enough. We'll speak soon ok? In the mean time, find something you love and do it more.