Scuba diving is a great sport.
Except scuba diving isn't a sport is it? Let's be honest about it for a minute. When a person is scuba diving exceptionally well it's just barely an activity. Picture in your mind someone that is an excellent diver. Technically what sets a great diver apart is how little they are doing. Barely moving, hardly breathing and everything positioned to be as streamlined as possible to reduce resistance while swimming. Come to think of it calling it an activity is a bit of a stretch at times.
Maybe that's why I try to do other active things when I am not diving. It's all about balance. One great thing about living in Dumaguete/Dauin is the access to so many other things to do. There are so many outdoor adventure activities here it is amazing. Ziplines, waterfalls, hot springs, canyoning, bike trails and caves. But my favorite is the one thing everyone who comes to the region sees.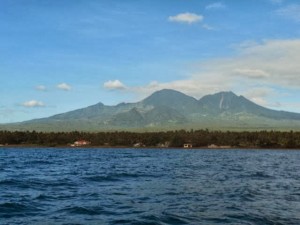 Mount Talinis is the backdrop for the southern portion of Negros Oriental and towers over the region. It is known locally as Cuernos de Negros (Horns of Negros)and at 1,903 metres (6,243 ft)above sea level, it is the second highest mountain on Negros Island. As part of the Negros Volcanic Belt, it is just another volcano that makes up the Pacific Ring of Fire.
It is classified as potentially active by the Philippine Institute of Volcanology and Seismology. Which I guess is the equivalent of a shrug of the shoulders and a non-committal grunt when someone asked them if it could blow its top. On the northern end of Negros island however is Mount Canlaon which garnered the assured head nods by the institute and is classified as active.
Even though Talinis is not active there are a surprising amount of things happening on or under the slopes. It only gets more active as you go up the slope of Talinis. There are sulphur vents, hot springs and even steam vents that are harnessed to generate electricity for the island.
Liquid Dive Resort is built on the beachfront with Talinis in the background. But we still feel the effects. All of the hot water in the resort is pumped straight from the ground and out to the showers. When the resort was first opened all of our water came from the hot spring. The problem was that the water was too hot to shower. We have now had to bring in fresh water and pump the hot water into a holding tank to let it cool a bit before reaching the showers.
A short drive from the resort is one of the drop-off points to access the hiking trails that lead to the summit of Mount Talinis. Parking at the site of an abandoned geothermal power plant site gives great views of the coastline of Dumaguete and across to Siquijor, Cebu, Apo Island and beyond that Mindanao. From here the trailhead starts at the treeline and throws you straight into it.
The first part of the climb is steep and rocky. A mountain goat would need to take a break clambering up this type of slope.  Within the first ten minutes I was huffing and thinking this was a big mistake and that if this was indicative of how the rest of the climb was going to be, I wasn't going to make it. Luckily it eases off after a while and becomes a more gradual slope, although overgrown in most places. Without a guide there are definitely times where it would be all too easy to veer off course on what looks like a path only to find out it dissipates into overgrown forest.
After a particularly steep climb there is a point where you pop out on a ridge and are blasted by cold air coming from the other side. It is a welcome respite from the hot climb and is like someone turned on the air conditioning. Stopping for a drink of water here is a great place to catch your breath and take in the scenery. Before long you are again given a look at the coastline and surrounding islands as the ridge thins out.
From here it is back into the treeline and a steady climb through lush tropical scenery before reaching Lake Yagumyum. The lake has a bit of a clearing and makes a nice backdrop for a morning snack and a chance to put the packs down for a while.
Moving on from Yagumyum it was time for a bit of up and down as there was a need to ascend over a ridge and down the other side before making some fairly decent uphill climbs to the next section. Throughout the trail there are tree and rocks and other obstacles to climb over under or around. If you want a pleasant stroll through the woods, this is not the place. The trail was overgrown and required concentration not to twist your ankle or misstep. Finally the land starts to level off and you are more or less maintaining the same altitude as you approach the second lake.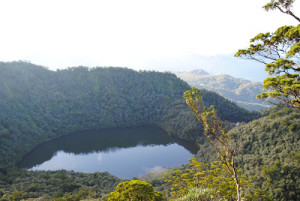 Lake Nailig is a crater lake that has a perfect area for setting up camp and having some lunch. It is also only a short climb from the lake to the summit. Sprawling out on the grass and taking a few moments to appreciate everything on offer really makes on appreciate how privileged we are to have access to this amazing place. After a quick dip in the lake, the summit awaits. The first time that I hiked Talinis we managed to miss the trail up to the summit and spent the better part of two hours hacking and scrambling our way up muddy slopes and through thick foliage. It was a grueling climb and we were near the point of turning around and admitting defeat when we suddenly popped out onto the actual trail. It turned out that we were only a 2 minute hike from the summit. The second time that I climbed Talinis was much smoother (but not nearly as memorable), as the climb from Nailig to the summit was only 30 minutes.
Once reaching the summit there is a large tree growing more or less sideways out the top and you can easily fit several people on its branches for a photo. If the weather is clear the views are amazing. It's a rewarding feeling to reach the peak and spirits are high. But within moments reality settles back in and with it the realization that the peak actually marks the halfway point of the trek.
You would think that retracing your steps would be considerably easier, but at times it is just as punishing if not more so. On the way up I rarely stumbled and fell over. On the way down I think I slipped and shimmied down on my butt for most of it. Passing Nailig again and going down and back over to get back to Yagumyum was a few solid hours of scrambling. Finally it was time to clamber from rock to rock again as we made our way to the trailhead and back out of the tree line.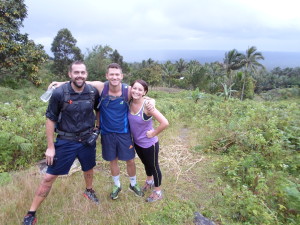 Returning to the vehicle and looking back up at the ground that had been covered I felt I had accomplished something. I had done something.
It's a very different experience than the diving I usually do. Barely moving, hardly breathing and everything positioned to be as streamlined as possible to reduce resistance. Not today. This was an activity. Come to think of it calling it an activity would be an understatement.
If  you want a change of pace, try one of our Adventure Tours and see what Dumaguete has to offer besides diving.
Tim