Shore diving
When most people think about diving they picture themselves on a big boat on a sunny day cruising the tropical waters of the Philippines. I am going to paint you a different picture in this blog and I will convince you why shore diving is just as much fun!
At Liquid, we do quite a few shore dives around Dauin and to be honest I'm quite happy about that. Let's start with the drive… Narciso, our well-trusted chauffeur, is a character! He jokes around with our staff and customers constantly but is very helpful. He drives us carefully up our dirt track to the main road. Then as soon as we pull off the road to go to the dive site, we drive through the Negros Oriental countryside. That means cows, chickens, farmers, water buffalos and kids playing and waving. So you get two in one: a countryside tour and a visit to the wonderfully weird aquatic world of Dauin.
Especially from an instructor's perspective shore dives are quite easy and interesting. A fair amount of beginning divers experience sea sickness and going by land transportation just takes that completely out of the equation. Plus for most of our PADI Open Water Course students it is less daunting to walk into the ocean as opposed to jumping off a boat into the 'abyss'. We try to give our students as many different experiences as possible, so shore diving in Dauin and diving from a boat at Apo Island are a popular combination. At first shore dives are a bit of a challenge because most divers are not accustomed to it. Even more experienced divers struggle a bit. Here are some tips to make your shore dive a little easier: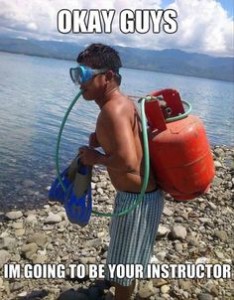 1. Do a buddy check! Remember the Begin With Review And Friend? As with any dive, go over your gear with your buddy and make sure everything is working properly. Don't be that diver that just went into the water with their tank closed and their fins still on shore… And at the same time make sure your buddy, divemaster or instructor has everything as well 😉
2. Defog your mask and put it on whilst on shore or standing in ankle deep water. Also use your snorkel, especially when going through mild surf. Now you'll be able to breathe and see, a very big advantage…
3. Now inflate your BCD! Even though you're walking into the water at some point you will not be able to stand anymore. Some positive buoyancy can be quite useful then.
4. Walk out to waist deep water and put your fins on. Don't let go of your one fin while putting on the other! You should be facing towards shore to make sure the waves are pushing you forward. This way you can brace yourself with your feet in case a wave catches you off guard. You wouldn't want to be falling backward and now laying tank down on shore, not so easy to get up!
5. Now descend together with your PADI Divemaster or Instructor and enjoy your quest for the Dauin critters. Frogfish, seahorses, ghostpipefish, nudibranch and different kinds of octopi, we've got it all…
6. Instead of hanging in the blue for your safety stop, you can continue your hunt for critters whilst releasing some of that nitrogen you have absorbed. Swim along the bottom back to shore and ascend when you're in shallow water.
7. Stand up again in waist deep water and reverse the procedure of point 4 for taking off your fins. Keep facing towards shore though!
8. Walk out slowly, time it well with the waves and store your equipment. Your adventure is almost done! Only thing that is left is the drive back to Liquid where that cold drink is just calling your name.
Come and join us
Berlinda